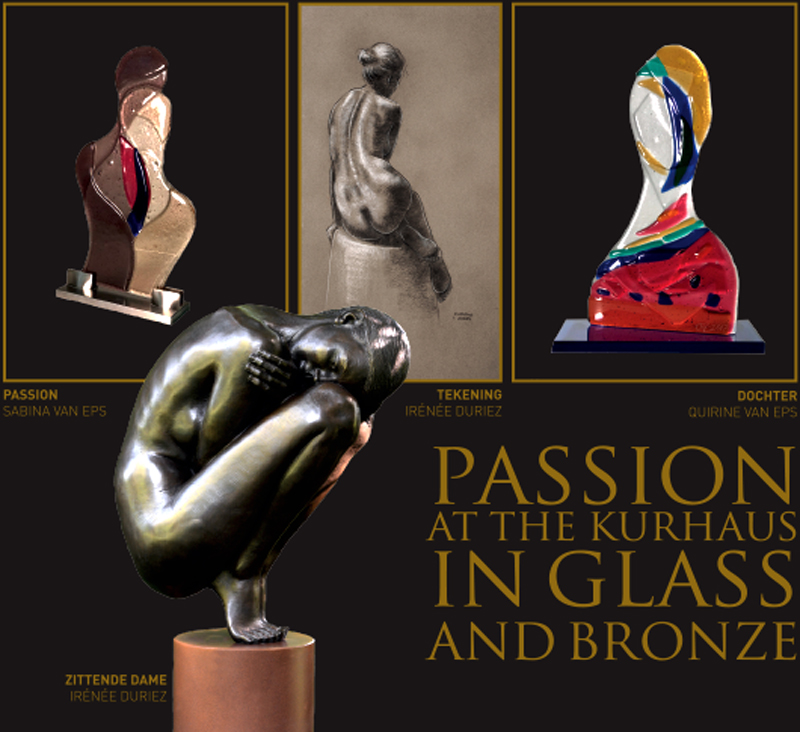 Geachte heer/mevrouw,

Graag nodigen wij u uit voor de opening van de nieuwe verkoopexpositie van Gallery Bell'Arte at the Kurhaus. Op zondag 5 november 2017 van 15.30 uur tot 18.00 uur ontvangen wij u graag in de Serre van het Kurhaus waar de bronzen beelden van Irénée Duriez en de glazen kunstwerken van Quirine en Sabine van Eps te zien zullen zijn.
De heer Leendert van Driel zal om 16.00 uur de expositie officieel openen. De kunstenaars zullen tijdens de opening van de verkoopexpositie ook aanwezig zijn. Wilt u bij de opening aanwezig zijn kunt u dat hier aangeven. De expositie zal te zien zijn tot en met zondag 25 februari 2018.
Door het gehele Kurhaus zullen de prachtige kunstwerken te bezichtigen zijn en u kunt vrijblijvend binnen lopen. Ook zijn er diverse kunstwerken te zien van Emile Cornelis, Arvid, Carlos Mata, Jan Desmarets en Luigi Galliani.
Na de feestelijke opening kunt u heerlijk dineren bij restaurant Waves at the Kurhaus. Als gast van Gallery Bell'Arte bieden wij u graag een mooi drie-gangen menu voor € 37,50 per gast. Daarnaast heeft u ook de mogelijkheid te overnachten in het Kurhaus en kunt u verblijven voor het speciale Bell'Arte kamertarief: € 139,00 per nacht inclusief ontbijt voor twee personen (op basis van beschikbaarheid). Reserveren voor diner of overnachting kan via h.de.vries@amrathkurhaus.com.
Wij zien er naar uit u te mogen ontvangen.
Met vriendelijke groet,
Doret Huibers
Gallery Bell'Arte
T: 06 5435 3464
Marcel R. Bosman
General Manager
Grand Hotel Amrâth Kurhaus
RSVP: voor 3 november via welkom@gallerybell-arte.com. Meer informatie over de galerie en de kunstenaars vindt u op www.gallerybell-arte.com. Parkeren kan in de Kurhausgarage en in de Nieuwe Parklaan garage.
Een reis door mijn universum
In november wil kunstenaar Arvid u mee op reis nemen door zijn universum. Deze werken zullen geëxposeerd worden in het Beauforthuis, Woudenbergseweg 70, 3711 AB in Austerlitz. U bent van harte welkom bij de opening van de expositie 'Een reis door mijn universum' welke 12 november om 16:00 uur zal plaatsvinden. Als u hierbij aanwezig wilt zijn kunt u dat hier laten weten. De tentoonstelling is daarna tot 4 januari in het Beauforthuis te zien.