EXPOSITION: Stars, tot 29 september 2019
Geachte mevrouw/mijnheer,
Van harte nodigen wij u uit voor de bezichtiging van de nieuwe expositie: 'Stars' bij Gallery Bell' Arte at the Kurhaus.
De expositie duurt t/m 29 september 2019.
De kunst wordt geëxposeerd in de lobby, in de Kurzaal, in restaurant Waves en op de terrassen.
Wij zien er naar uit u te mogen ontmoeten.
Met kunstzinnige groet,
De kunstenaars, het Amrâth Kurhaus team en
Doret Huibers van Gallery Bell'Arte at the Kurhaus, +31 (0)6-5435 3464
Klik hier als u voor een speciale prijs wilt overnachten.
Voor alle informatie www.gallerybell-arte.com
 EXPOSITION AT THE SEA
Hélène Grégoire
Is from an artist's family and was educated at the National Academy of Fine Arts in Amsterdam. Nature is the starting point of her paintings. What she experiences brings her back to the essence, creating abstract fabrics that are painted with simple color use from her emotion. She uses both the brush and the palette knife and looks for balance in composition and color. Between 1980 and 1995 she lived in Australia where she regularly exhibits. Nowadays she lives in Groningen.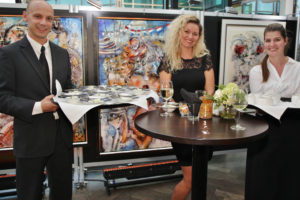 EXPOSITIE MOULES FRITES
Guy Olivier at the Kurhaus
 Vital spontaneity, the esprit of the South, but especially heartfelt exuberance splashes almost literally the work of Guy Olivier (Maastricht, 1964). The scenes in his paintings – whether portraits of lascivious-confident young women or drunk night owls who suddenly saw the light and love. Of runaway dinners or Fellini Esque circus scenes – everywhere celebrated the theatrical exuberantic of life on canvas and paper.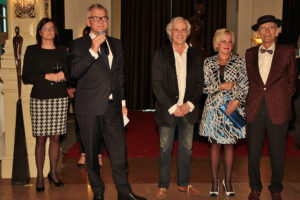 EXPOSITIE AT THE KURHAUS
Joris Gaymans en Albert Niemeyer
On Saturday, October 24th at 16.00 hours, the new exhibition of Gallery Bell'Arte at the Kurhaus opened. The Maastricht Gallery Bell'Arte opened its second branch in the Kurhaus on April 26 2015 and exhibits names like: Ans Markus, Pépé Grégoire, Jan Desmarets, Emile Cornelis, Bart Somers, Luigi Galligani, Ans Sunday, Gerti Bierenbroodspot, Arvid, Joris Gaymans Albert Niemeyer, Francesca Zijstra and Carlos Mata. The artists Gaymans and Niemeyer will both present their own work will be on display from 24 October in the Kurhaus.
EXPOSITIE OPENING AT THE KURHAUS
Pépé Grégoire en Luigi Galligani
Recently Pepe has developed a new phenomenon in art: Photo Sculptures; stylized imagery with a house of photographic fragments. He Adds four art forms into one, namely photography, architecture, painting and sculpture.  Italian artist Luigi Galligani has made a selection of his, mostly bronze, works for the new branch of Gallery Bell'Arte in Scheveningen. Many of Luigi Galligani's sculptures are inspired by the theme of the Mediterranean and its myths. Own the Amrath Hotel Group, Giovanni van Eijl, is the bronze statue "Il Canto delle Sirene 'donated to the Kurhaus, so it will have a permanent place in" his "Kurhaus hotel on the coast.